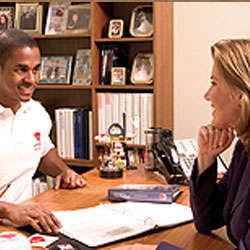 Emergency First Response Instructors also enjoy the extensive Emergency First Response business support structure, including strong customer service, full-time training consultation service and ongoing professional quality management systems. Marketing support services are also available, including:
Online Course Finder
A Marketing Support package, featuring customizable direct mail solicitations, course brochures, PowerPoint TM Corporate pitch presentations and sample proposal cover letters to assist you in marketing your services.
Marketing promotional materials, such as barrier devises, polo shirts, hats and duffle bags that carry the distinctive Emergency First Response logo
Special discounts on AED training units and mannequins in adult, child and infant sizes
Ongoing marketing and public relations campaigns by Emergency First Response Regional Headquarters internationally
Emergency First Response further assists you in marketing your services by providing you with regular communications and online marketing seminars on who to target and why. We provide you with targeted marketing materials for various audiences, and offer promotional materials to assist you in marketing your classes.
With Emergency First Response's online Course Finder, you can post your contact information on our website, making it available to a wide variety of potential clients in your area and around the world.